Community Summit To Be Held October 24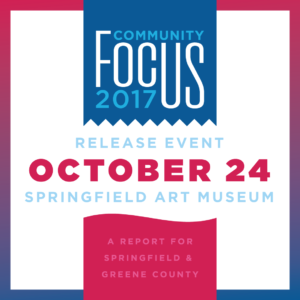 Tuesday, October 24, 2017
Springfield Art Museum
1111 E. Brookside Drive
9:30 a.m. – 11:00 a.m.
Program will begin at 9:30 a.m.
Doors will open at 9:00 a.m.
The Junior League of Springfield and our community partners invite you to join us at the 2017 Community Summit Release Event. This year's summit will focus on successful community programs that are addressing Red Flags from past reports, including "in their own words" perspectives from those involved. Many of these programs led to Blue Ribbons in the 2017 report. The cornerstone of the event will be the release of the 2017 Community Focus Report for Springfield Greene-County.
The introduction of the 2017 Community Focus Report
Members of the community are encouraged to attend and visit with representatives from each topic area in the museum lobby before and after the program. 
Tickets will be available for a special screening and discussion of the film "Resilience", a one-hour documentary on the science of Adverse Childhood Experiences and a new movement to prevent toxic stress. The free screening will be held Tuesday, October 24 at 5:30 p.m. and is made possible by Moxie Cinema, Isabel's House, and the Child Abuse and Neglect Collaborative. 
No RSVP is necessary.  This event is free and open to the public.
Seating will be available on a first-come basis. Parking will available at the Art Museum.