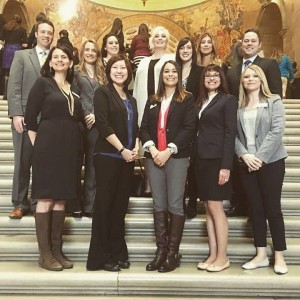 Highlights of the day include appointments with several area legislators, including Representatives Lincoln Hough, Kevin Austin, Eric Burlison, Charlie Norr, and Elijah Haahr.
During these visits with elected leaders, conversations were held about Senator Bob Dixon's SB 753, HB 2188. If enacted, this legislation would provide funding for early childhood education through a voter approved sales tax. League members also thanked legislators for their past and continued support of crisis care funding and tax credits. Each legislator was able to sign a children's book which will in turn be donated to Isabel's House for the children to enjoy.
After a busy day at the capitol, the group enjoyed lunch at Madison's Cafe where participants were joined by members of the Kansas City and St. Joseph Leagues. All League members present heard a presentation by guest speaker Judge Mary R. Russell of the Missouri Supreme Court. The group then headed to the Missouri Supreme Court for a tour before returning to Springfield.