Cheri Clark Bouquet of Enthusiasm Award
Cheri Clark was an active Junior League volunteer who died tragically in 1988 while delivering a baby to its adoptive family on behalf of the Division of Family Services. Cheri's dedicated and cheerful spirit is alive today in the Junior League and exemplified in the Cheri Clark Bouquet of Enthusiasm recipients.
1989 Mary Kay Ross
1990 Susan Armstrong
1991 Kathy Sheppard
1992 Sally Hargis
1993 Debbie Rollinson
1994 Sheri Duncan
1995 Morey Mechlin
1996 Crista Hogan
1997 Jane McElvaine
1998 Tina Stillwell
1999 Anne Marie Baker
2000 Amy Murray
2001 Martha Gaither
2002 Liz Godwin
2003 Kim Erdel
2004 Mary Craven
2005 Lisa Wade
2006 Carol Wooten
2007 Brooke O'Reilly
2008 Alison Miller
2009 Mary Lou Foss
2010 Jill Baker
2011 Stephanie Montgomery
2012 Holly Beadle
2013 Kate Bauer
2014 Denise Roche-Caldwell
2015 Logan Aguirre
2016 Allison Anbari
2017 Leslie Gloe Johnson
2018 Courtney Hayes
2019 Allison Jackson
2020 Christy Howell
2021 Tammy Dixon
2022 Millie Schuchmann
2023 Rachel Fuhrman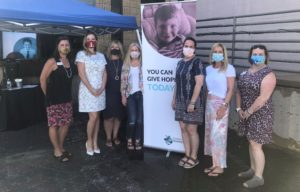 Several winners of the Cheri Clark Bouquet of Enthusiasm Award gather at FosterAdoptConnect, July 2020.
Lifetime Achievement Award
The prestigious JLS Lifetime Achievement Award is presented to a JLS member who has embodied the spirit of the League throughout her life. Lifetime Achievement Award recipients have utilized their JLS leadership training to continue to impact the community.
Winners:
1998 Jan Knauer Horton
1999 Pat Walker
2000 Joyce Blades
2001 Fredna Mahaffey
2002 Roseann Bentley
2003 Marie Prater
2004 Kay Charles
2005 Mary Kay Meek
2006 Lezah Stenger
2007 Cathryn "Kitty" Cox Lipscomb
2008 Carol Williamson
2009 Patty Brooks & Cynthia Hollander
2010 Bonnie Shackter
2011 Ann Turner
2012 Sharon Nahon
2013 Beverly Young
2014 Morey Mechlin
2015 Beth Raidel
2016 Sally Hargis
2017 Marthe Drummond Close
2018 Jane McElvaine
2019 Linda McAllister
2020 Nancy White
2021 Crista Hogan
2022 Ann Marie Baker
2023 Heather McCurley Trinca