Letter from the President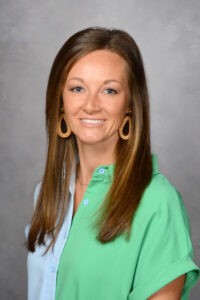 Dear Friends and Community Members,
It is my pleasure to address you as the 2023-2024 President of the Junior League of Springfield, Missouri. I am excited to lead and serve a remarkable group of passionate women dedicated to collaborative action, developing the potential of women, and improving the lives of local women and children. JLS has been an integral thread of the fabric that makes up Springfield for over six decades, working tirelessly to address community red flags and bring about positive change. Together, we will continue to create, promote, and support programs and projects that uplift and empower those who need it most. The theme for the 2023-24 League Year, "We Are One", encapsulates the spirit of unity and collaboration that is essential for driving meaningful change. I am committed to working alongside each Junior League member and community partner, knowing that working together as a cohesive team will yield greater results.
There are multiple ways you can get involved with the Junior League. If you are looking for an avenue to make a difference, consider becoming a member. By joining our ranks, you will have the chance to engage in meaningful volunteer work, develop valuable leadership skills, and connect with like-minded women who share your commitment to service.
If you are a community partner, please consider sponsoring or attending one of our fundraising events. Your generosity allows us to continue implementing vital programs that address needs within our community. Every contribution, no matter the size, makes a difference and brings us one step closer to building a brighter future.
I am immensely proud of the work the Junior League of Springfield. Over the years, we have spearheaded initiatives that have positively impacted the lives of countless individuals in our community. Past projects include Isabel's House, Discovery Center, Boys and Girls Club, Child Advocacy Center, Leadership Springfield, and the Community Focus Report. Since 1959, the League has consistently shown its commitment to making Springfield a better place for all, and we strive every day to honor that legacy. Thank you for your unwavering support, and I look forward to working alongside each of you as we make a lasting impact on our community together.
We Are One!
Sincerely,
Samantha Williams
President, Junior League of Springfield, Missouri