Community Advisory Council
The Junior League of Springfield's Community Advisory Council is a group of well-respected men and women who live, work and/or serve in the Springfield community. They are individuals who have corporate, non-profit and small business expertise in addressing community needs.
The Community Advisors are an essential ingredient to the continued success of the Junior League of Springfield. They have the expertise and skills to bring an outside voice to our League, providing another perspective to our concerns and expanding our point of view. They also act as League ambassadors, raising our visibility and credibility in the community and increasing public awareness of the Junior League of Springfield and our signature focus of child abuse and neglect.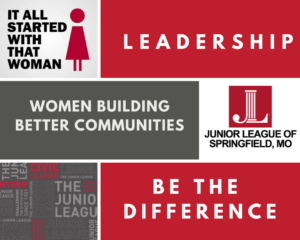 2019-2022 Community Advisory Council
Holly Beadle
Executive Director, Isabel's House
Brian Fogle
President and CEO, Community Foundation of the Ozarks
Matt Morrow
President, Springfield Area Chamber of Commerce
Richard Ollis
Ollis/Akers/Arney
Missy Riley
Director, Parent as Teachers
Mark Struckhoff
Executive Director, Council of Churches of the Ozarks
Dana Carroll
Child Advocate, Every Child Promise
Jason Gage
City Manager, City of Springfield
Don Chenevert, Jr., Esq.
Deputy General Counsel, SRC Holdings Corporation
Hal Higdon
President & Chancellor, OTC
Meleah Spencer
CEO, The Kitchen
Jenny Filmer-Edwards
Public Information Administrator, Springfield Greene-County Park Board
Updated 10/22/2019