In April 1959, five women joined together to form the Community Service League of Springfield, Missouri. Their vision: to make a positive contribution to Springfield through their voluntarism and fund raising efforts.Would these five, even in their wildest dreams, imagine the impact their organization would make in the decades to follow?
The Community Service League was accepted into the Association of Junior Leagues International in 1976, becoming its 231st member. The earliest fund raising efforts of selling fruitcakes evolved into multi-faceted, full-fledged businesses. Annual membership grew from 6 to 600.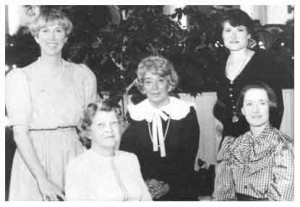 JLS Founding Members from Left to Right: Jan Knauer Horton, Anne Peightel Wakeman, Suzanne McDonald Tynes, Patty Moran Brooks, Cynthia Farthing Hollander.
The Junior League of Springfield was instrumental in developing these projects and programs designed to benefit the Springfield community.
1960

Children's Clothing Bank

Visiting Nurses Association

1963
Girls Club (now Boys and Girls Club)
1972
KOZK, Ozarks Public Television
1973
Regional Girls' Shelter
1974
KOZK, Ozarks Public Television Tele-Auction
1976

Child Advocacy Center

History Museum of the Ozarks

Plaid Door Thrift Store

1977

Community Needs Assessment Survey

The Springfield Ballet

1980
Dickerson Park Zoo Educational Amphitheater
1981
Hospice Program
1982
Ozarks Food Harvest
1983

Leadership Springfield

Reading Is Fundamental

1985
Kids on the Block Puppet Troupe
1987
American Red Cross Blood Mobile
1989

Discovery Center of Springfield

Teen Parent Program

1990
First Night Springfield
1991
Homebound Shoppers Service
1993
Dickerson Park Zoo Asian Elephant Education Program
1996

Hall of Leaders Lecture Series at Springfield Public Schools

Greene County Teen Court

1997
Family Violence Center's ABCs & 123s Educational Program
2000
Library Story Garden at the Springfield Library Center
2001
Boy Scout Nature Conservation Trail
2002
Ronald McDonald House Mobile Dental Care Unit, Founding Partner
2003
Boys and Girls Club Learning Center at the Bill Stalnaker Unit
2004
Community Needs Assessment
2005
Community Report Card, Second EditionFocus on Child Abuse and Neglect
2007
Isabel's House, Crisis Nursery of the Ozarks
2013

Darkness to Light community training program to prevent Child Abuse & Neglect

A Framework for Understanding Poverty

2014
Habitat for Humanity: Women Build
2015

Homeless Youth Project

Community Focus Report

2016
Little Black Dress Initiative
2017
Community Focus Report