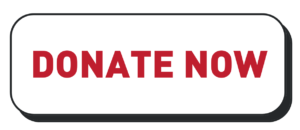 What is The Founders Fund?
The Junior League of Springfield (JLS) created an endowed fund in honor and memory of JLS Founders, Patty Brooks, Cynthia Hollander, Jan Knauer Horton, Suzanne Tynes and Ann Wakeman, to represent the importance and magnitude of the Founders' commitment to our community and their dedication to the training of women leaders.
The Founders Fund will award at least one (1) scholarship(s) and at least (1) community grant(s) annually in the spring in accordance with the guidelines as set forth in the JLS bylaws and policies.
The annual recipient of the scholarship(s) and grant(s) shall each represent the interests of the JLS Founders, as well as the stated mission, vision, values and diversity and inclusion statement of JLS.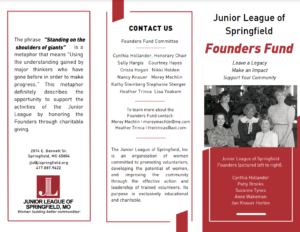 Project History
The Junior League of Springfield (JLS) leverages its resources to address issues of need in our community. Historically, JLS focused on child abuse and neglect. In recent years, JLS has widened its impact to also focus on the needs of underserviced and disadvantaged women and children in our community. JLS impacts these issues through advocacy, direct service, and volunteer time. We collaborate with local experts and organizations to develop strong intervention programs, raise community awareness, and make a difference. JLS was instrumental in developing the following projects and programs to benefit the Springfield Community:
Girls Club (now Boys & Girls Club)
KOZK, Ozarks Public Television
Child Advocacy Center
History Museum of the Ozarks
Community Needs Assessment Survey (now Community Focus Report)
Isabel's House, Crises Nursery of the Ozarks
Discovery Center of Springfield
American Red Cross Blood Mobile
Greene County Teen Court
Leadership Springfield
Ronald McDonald House
Mobile Dental Care Unit
For more information, contact: