The Junior League of Springfield (JLS) leverages its resources to address issues of need in our community. Historically, JLS focused on child abuse and neglect due to the alarming rates of child abuse in Greene County that far exceed the state average. JLS has widened its impact in recent years to also focus on the needs of underserviced and disadvantaged women and children in our community. The Junior League will impact these issues through advocacy, direct service, and volunteer time. We will collaborate with local experts and organizations to develop strong intervention programs, raise community awareness, and be part of the solution.
In the 2020-2021 league year, JLS will contribute volunteer hours to several projects:
Big Brothers Big Sisters
This project will support trainings and activities that help children develop social and emotional skills so they can have healthier peer relationships and assist children in avoiding risky behaviors including violence and substance abuse. Of the children in the BBBS program, 62% came from a single-parent home, 88% qualified for free or reduced lunch, 69% lived in a household income of $20,000 or less, and 25% had a parent incarcerated. Statistically, these children are more likely to experience crises including child abuse and neglect, domestic violence, and alcohol and/or drug abuse. JLS will assist during Match Events, one in the fall and one in the spring, by supporting set up, sign-in and activity assistance, serve food and clean up.
I Pour Life
I Pour Life assists in celebrating the achievements of youth in the I Pour Life Program. JLS will assist approximately 200 homeless and at-risk youth aging out of children's services (50 at each event). JLS volunteers will provide support at three impact events for Life Strengths. Volunteers at impact events will provide opportunities for youth to network, expand on life skills development (thank you card writing, dinner, and first impressions) as well as providing JLS volunteers the opportunity to make a valuable connection with youth.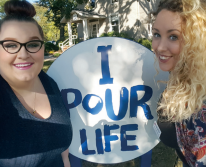 Laura's Home
JLS will work with Laura's Home staff to plan and present quarterly Independent Living Workshops for residents at Laura's Home. JLS will assist girls age 16-21 aging out of the foster care system in learning the skills to live and work independently and provide meaningful one-on-one interaction with Junior League members.
OTC Middle College
JLS volunteers will provide support for a shopping event at the Plaid Door for OTC Middle College students. Volunteers will provide lunch to students and shop one on one with students for clothes at the Plaid Door. This event will also include a speaker.
Safe to Sleep is a temporary homeless women's shelter. JLS volunteers will be "Monday Night Helpers' to trained Safe to Sleep volunteers one Monday per month at Safe to Sleep from 7:00 p.m. – 9:00 p.m. JLS volunteers will assist with check-in, support with snacks and beverages, and visiting/supporting women who are staying in the facility.
The Boys & Girls Clubs of Springfield provides programs that guide and direct youth from all backgrounds, particularly those from at-risk environments. Through social, physical, and educational development activities, the Boys & Girls Clubs of Springfield teach youth the values of life, strengthen their self-esteem, and make them better citizens of our community. JLS volunteers will provide support at two BBBS Match Events and Big/Little Trainings, one in the fall and one in the spring.
Girls on the Run Southwest Missouri
Girls on the Run inspires girls to recognize their inner strength and celebrate what makes them one of a kind. JLS volunteers will support Girls on the Run Community Impact projects. JLS volunteers will provide support for GOTR by creating and distributing 200 tutus for their May 1, 2021 race. Volunteers will then distribute them directly to the girls on race day.
Empower Abilities
Empower Abilities' mission is to remove barriers and empower independent living for all people with disabilities. Its mission is to assist all people with disabilities to live their fullest life and participate in an accessible world of social equality. To that end, JLS will provide volunteers to build two handicap-accessible ramps.
Foster Adopt Connect
FosterAdopt Connect's mission is to provide foster and adoptive children a stable, loving and nurturing family environment by support and advocacy for abused and neglected children and the families caring for them. JLS will provide volunteers for quarterly Stuff the Bus events for Sammy's Mobile Unit Program. Volunteers will help ready the bus for distributions to foster families throughout the community. This will include shopping for needed items, organizing clothing, repackaging donations, and stocking shelves with hygiene items and other seasonal products – i.e. school supplies, winter clothing, jackets, shoes, Christmas toys, etc.
Salvation Army
The Salvation Army provides a wide array of social service assistance programs for numerous residents in Christian and Greene counties. Available assistance includes an emergency food pantry; housing and shelter programs; community center programs for children and senior citizens; daily feeding programs; emergency disaster services; worship and spiritual counseling; Thanksgiving, Christmas and Back-to-School assistance, and much more. JLS volunteers will paint and refresh eight (8) rooms a the Salvation Army's Family Enrichment Center (FEC), which provides a nurturing and safe place for homeless families. This project will help brighten and energize the rooms for families experiencing a time of crisis.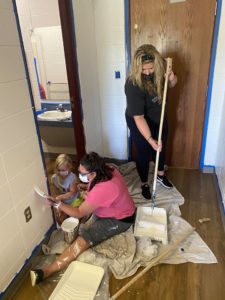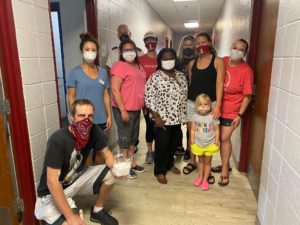 Members and helpers volunteered at the Salvation Army in July 2020.
Updated 8.18.2020