The Junior League of Springfield (JLS) leverages its resources to address issues of need in our community. Historically, JLS focused on child abuse and neglect due to the alarming rates of child abuse in Greene County that far exceed the state average. JLS has widened its impact in recent years to also focus on the needs of underserviced and disadvantaged women and children in our community. The Junior League will impact these issues through advocacy, direct service, and volunteer time. We will collaborate with local experts and organizations to develop strong intervention programs, raise community awareness, and be part of the solution.
In the 2021-2022 league year, JLS will contribute volunteer hours to several projects:
Big Brothers Big Sisters
Of the children in the BBBS program, 62% came from a single-parent home, 88% qualified for free or reduced lunch, 69% lived in a household income of $20,000 or less, and 25% had a parent incarcerated. Statistically, these children are more likely to experience crises including child abuse and neglect, domestic violence, and alcohol and/or drug abuse. JLS will assist hosting a Human Resources/Life Skills Fair for older youth on topics such as: job interview preparation, resume building, filling out applications, creative thinking and professional communication.
The Boys & Girls Clubs of Springfield provides programs that guide and direct youth from all backgrounds, particularly those from at-risk environments. Through social, physical, and educational development activities, the Boys & Girls Clubs of Springfield teach youth the values of life, strengthen their self-esteem, and make them better citizens of our community. JLS volunteers will provide support a Girl Empowerment Movement (GEM) Summit, to celebrate women and inspire confidence in female members of the Boys & Girls Club of Springfield.
CASA of Southwest Missouri recruits, trains and supports community volunteers who advocate for the best interest of children who have been abused or neglected and are in foster care in Greene and Christian Counties. Data shows that foster youth are 29% less likely to graduate from high school when compared to their peers. In addition, less that 3% of foster youth will attend college or seek higher education after high school. JLS volunteers will partner with CASA to showcase various professions and discuss with older youth in foster care about the process to achieve educational and professional goals.
The Child Advocacy Center serves and supports neglected and abused children of Southwest and Southcentral Missouri. In coordination with the Missouri Children's Division and law enforcement, as well as medical and mental health professionals, the Child Advocacy Center utilizes a best practices approach that provides accessible and timely forensic interviews, medical exams and counseling services, in a safe, child-friendly environment. Through the Comfort and Care project, JLS volunteers will have the opportunity to make fleece comfort blankets for abused children.
Through the Diaper Bank of the Ozarks mission to distribute disposable diapers through partner agencies, over a hundred agencies are served through out 59 counties in the Ozarks.  The DBO's distribution network fulfills the ultimate goal of keeping babies healthy and happy by providing access to diapers, basic needs and education resources to families in need. JLS volunteers will work in the DBO's warehouse to sort, pack and load diaper orders for distribution to partner agencies.
Empower Abilities
Empower Abilities' mission is to remove barriers and empower independent living for all people with disabilities. Its mission is to assist all people with disabilities to live their fullest life and participate in an accessible world of social equality. To that end, JLS will provide volunteers to build two handicap-accessible ramps.
I Pour Life
I Pour Life assists in celebrating the achievements of youth in the I Pour Life Program. JLS will assist approximately 200 homeless and at-risk youth aging out of children's services (50 at each event). JLS volunteers will provide support at three impact events for Life Strengths. Volunteers at impact events will provide opportunities for youth to network, expand on life skills development (thank you card writing, dinner, and first impressions) as well as providing JLS volunteers the opportunity to make a valuable connection with youth.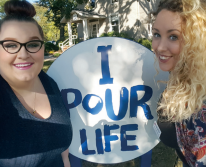 Laura's Home
JLS will work with Laura's Home staff to plan and present quarterly Independent Living Workshops for residents at Laura's Home. JLS will assist girls age 16-21 aging out of the foster care system in learning the skills to live and work independently and provide meaningful one-on-one interaction with Junior League members.
OTC Middle College
JLS volunteers will provide support for a shopping event at the Plaid Door for OTC Middle College students. Volunteers will provide lunch to students and shop one on one with students for clothes at the Plaid Door. This event will also include a speaker.
The Rebound Foundation provides two transitional homes for survivors of domestic abuse, called Marda's House. Through this program female survivors enjoy clean, stable housing for six months while they work towards independence. Additional services provided to residents help support their transition to self-sufficiency and self-empowerment. JLS volunteers will help deep clean homes and spruce up the exterior of the two homes.
Updated June 25, 2021